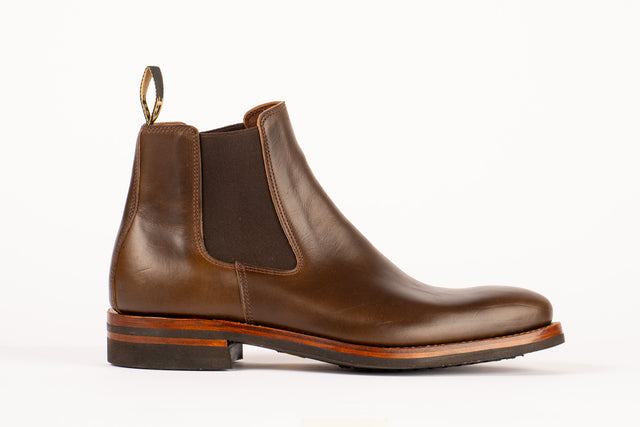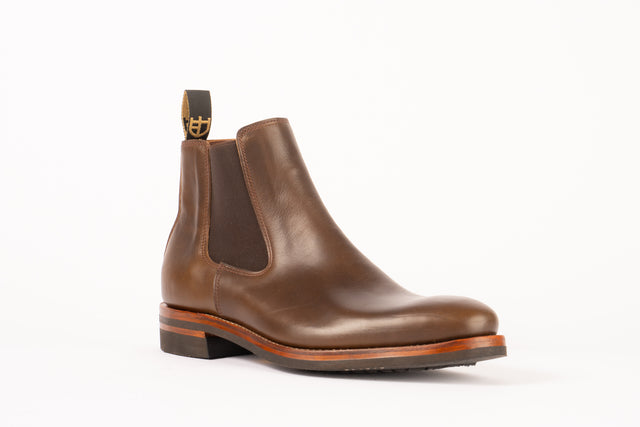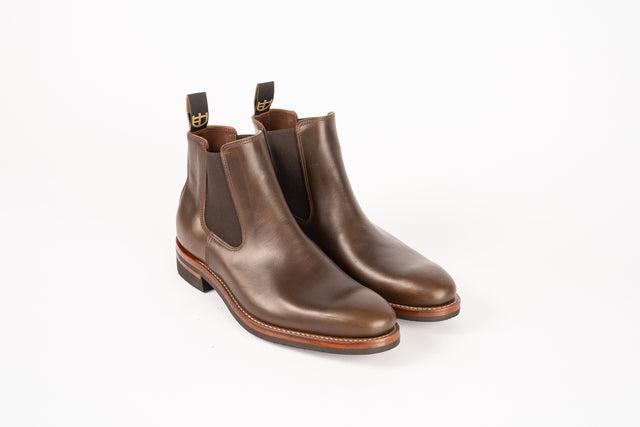 Chelsea Boot - Olive Brown Chromexcel
Choosing Your Outsole
Vibram 430 Sole
offers excellent grip, traction and flexibility
this is a great choice for heavy use in the city or for hiking
will last 2-3 years with heavy use (2-3km daily walking)
Vibram Mini-Lug
good alternative to Mini-lug 430
makes for a lighter weight shoe
heel can be replaced without a full resole
Vibram Eton (Club) Sole
softer and lighter sole compared to the Mini-Lug 430
it provides good grip and is ideal for city wear
Vibram Stresa Half Sole
ideal for dress/formal footwear
makes for a much lighter shoe
easy replace heel and topy separately
Vibram Lug Sole
a long lasting sole for a rough and rugged look
requires a full resole when replacement is required
popular amongst bikers and hikers
great for muddy wet conditions
ideal for workboots
Dr Sole Supergrip Half Sole (+$75)
vintage inspired look
wears well and has excellent traction
See Choosing Your Outsole For More Details
FAQs
Where Are Your Boots & Shoes Made?
All our footwear is handmade by a small team in Vancouver, BC, Canada.
What Leathers Do You Use?
Unless otherwise specified, we use full grain leather from USA.
What is Your Repair/Warranty Policy?
We will fix any defect in material or due to a craftsmanship flaw. Please see our Lifetime Guarantee for details.
What Is Your Return Policy?
Limited stock items can be returned within 30 days of receipt for a full refund. Please see our Return Policy for details.
Craftsmanship Guarantee
We stand by the quality and workmanship of our footwear.  Should there be any defect in the material, stitching or workmanship, please contact us at anytime so we can repair your leather footwear.  We will determine the best way to fix any flaw in our work or if a new pair will need to be made for you.
This lifetime craftsmanship guarantee may include:
Reattaching or re-stitching pull-tabs
Stitching defects on the leather upper
Defect in leather or workmanship
Our Craftsmanship Guarantee does not include the following:
Wear/damage to the rubber sole or heel
Physical damage to the footwear including accidental damage to the footwear
Water damage
Issues related to improper maintenance/conditioning
Any repair work not completed by HD Russell will void the lifetime guarantee
We want you to love your footwear for a lifetime.  If you have any concerns with your footwear, please email us to discuss how we can address your concerns.
Please refer to our guide to proper maintenance and conditioning of footwear.  For every pair of custom-made shoe or boot, we include a container of Saphir Mink Oil for you; this mink oil is regarded as the highest quality mink oil and is essential for the care and conditioning of your new footwear. 
Return Policy
At HD Russell, we stand by our shoes and boots.  If there is a flaw in material or workmanship, we will fix it at our cost.  Please see our Craftsmanship Guarantee for more information.
Limited Stock Footwear may be returned for a full refund less the cost of return shipping.  You may also choose to exchange the footwear for another item or for an online gift card.
Made-to-Order Items can be exchanged or returned for full store credit within 30 days of receipt provided the item is returned in the original condition it was purchased.  We may not accept returns on items that are damaged, scratched or obviously worn.  
Sale items are final sale.
Please email us to initiate an exchange or a return.
Shipping Policy
Limited Stock footwear will be shipped within 2-3 business days via Canada Post.
Shipping Within Canada: $30
Shipping to USA: $45
Please contact us for international shipping.